TOP-HUNG DOOR SYSTEM APPLICATIONS
"OPEN CONCEPT" FRAMELESS GLASS DOORS THAT TRANSFORM YOUR PROJECT
Are you looking for folding glass doors to maximize your projects' space? Do you want to create seamless transitions between indoor and outdoor living?
Our glass panels are unlike any other product in the market – with no frames around our sliding glass doors, we specialize in creating an "open concept" swing door systems that freely slides and stacks at a 90˚ angle on the side. Opening to either the inside or the outside, each wall system panel slides individually to the left or to the right, allowing the user to partially or completely open the system. Diaspora sliding glass walls offer clear, unobstructed views that transform spaces and allow one to live a more open lifestyle.
Our Products
Enjoy more space, Feel the open air!

The Cover System
• Provides an aesthetic and practical way of extending the usage of the balcony
• Offers a transparent and frameless view, as there are no vertical frames but only transparent PVC
• Provide complete protection against rain and wind, and also reduces noise considerably.
• Is suitable for all shapes and sizes of balconies as the panels move and slide easily, regardless of the angle.

PRISMA. Moveable Glass Wall
• Is a moveable glass wall totally suspended with no bottom rail.
• Is ideal for terraces and shop fronts, and can also be used for internal partitions and bank lobbies.
• The sliding glass panels move effortlessly and noiselessly and can be stacked almost anywhere.
• The first glass panel that can be equipped with floor spring, lock and handle, and can be used as a swinging door
RESIDENTIAL
A smaller version of our Interior and Exterior Glass Doors can transform ordinary windows into an impactful statement in any commercial or residential property. For a modern-day replacement, consider opting for a Frameless Sliding Window.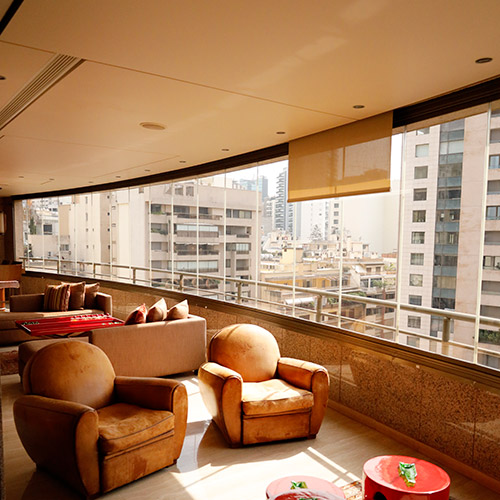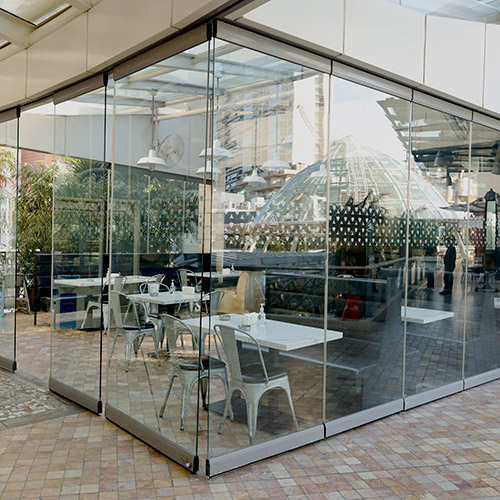 RESTAURANTS AND STOREFRONTS
We provide a unique opportunity for restaurant and storefronts alike to attract customers and maximize commercial space. Whether creating an al fresco dining experience or attracting the attention of window shoppers, Folding Glass Doors can add a valuable and dramatic design element your customers will love.
HOTELS, MALLS & RESORTS
Diaspora Folding Glass Doors offer endless possibilities for malls, hotels and resorts. Take full advantage of the beautiful scenery around your property with completely unobstructed views. Our products can be used in lobbies, guest room balconies, suites, outdoor cabanas, or even in smaller window applications. Make your property stand above the competition, with our Frameless Glass Doors.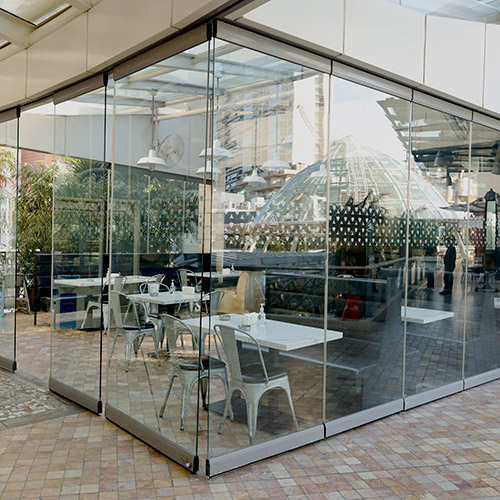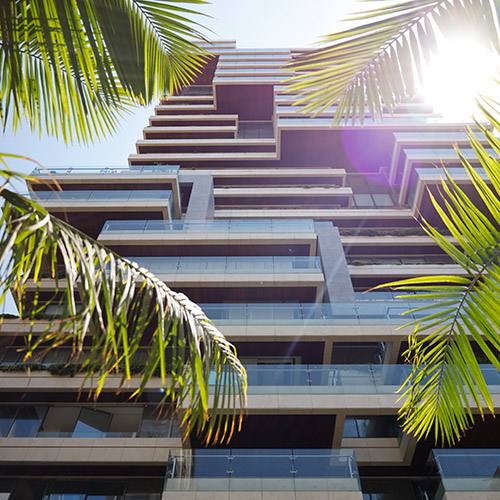 BUILDINGS FRONTS
Our Frameless Glass Doors instantly enhances visibility between spaces and can create a beautiful indoor-outdoor living experience in any home. By eliminating a wall, replacing traditional sliding or French doors, or even a window--our glass walls and doors allow homeowners the opportunity to truly reconnect with the natural environment around them.